Estimated reading time: 10 minutes.
Allow us to introduce Luke Caisley. Luke owns and operates Caisley Developments, a boutique company that specializes in bespoke interior and exterior construction projects. We contacted Luke to get some insight into the world of character and heritage home renovation projects, the result of which is this guide and introduction to help you plan your own.  
With experience as extensive as Luke's, we've managed to uncover some really awesome stories, inspiration and guidance for you. I did ask whether there were any literal skeletons that he'd come across throughout his time renovating beautiful character homes – his answer was unfortunately not, but some findings have definitely shed light on some interesting building practices of the past and will help you plan for the future. 
Introducing Caisley Developments
Originally from New Zealand, Luke Caisley incorporated Caisley Developments on the back of his decades of experience working with his father, a perfectionist and master of his craft, and high-end carpentry and finishing companies in Vancouver. Luke's passion for heritage and character restoration was confirmed after he and his father renovated a 130-year-old New Zealand home that still hits the headlines today for its quality.
The highly skilled team at Caisley Developments work mainly in the residential sector due to demand but have eagerly taken on commercial projects too. Their market positioning can be summarised by Luke's mention that "people call us for those difficult projects – these are the ones we love and excel at." Being able to do so with such quality requires a multi-talented team and Luke has ensured all of his specialists are experts across each discipline. "My ethos is that if they're doing the framing they'll be keeping in mind they might also be doing the finishing, this way our quality better transfers the whole way through the project." 
On character and heritage homes
I wanted to see if Luke could quickly shed some more light on the differences between heritage and character home renovations. There are many versions of both and would-be homebuyers and investors can be forgiven for getting a bit muddled. 
The official definition of a character home in Vancouver is a house built prior to 1940 that is considered to have heritage character. A heritage home is one that has been designated as such and is listed on the Vancouver Heritage Register. 
Though there are a few rules and regs to unpick, Luke says that you do have quite a lot of freedom with character home renovations. 
"The city really appreciates the fact that people want to retain key features and they don't want to control you quite as much as you'd think. Retaining old style door headers and plinth blocks in the interior is common, but that won't impact any modern feel you want to bring. For the exterior, they will review the front facade and the sides of the home to ensure they have fit the character style, all of this is easily manageable with the right people."

Following the theme and the aesthetic throughout the home doesn't mean you have to sacrifice a modern touch, so put that brand new kitchen in and a hot tub out back – sure. 
Luke's favourite house styles
Of all character and heritage homes, Luke has a particular affinity for the French and English Storybook style. These are quite literally a scene from a storybook – the more picturesque versions of the latter are known as "Hansel & Gretel" houses! These homes were typically built between 1925-1940 and were both influenced by soldiers returning from European battlefields. 
Most of the homes Luke comes across are Gabled Craftsman, he believes they were loved back then and remain to be so for very good reason. In Vancouver, these popular homes were borne out of the abundance of wood available here. 
"Walk around Vancouver Westside, especially Kitsilano, and you'll see this style on every street. There are a few reasons why I love them, notably the grand style and masterful craftsmanship. Building with wood is really special and to do it well is beautiful." 
"We've had the chance to work on some really special homes, especially around the UBC area."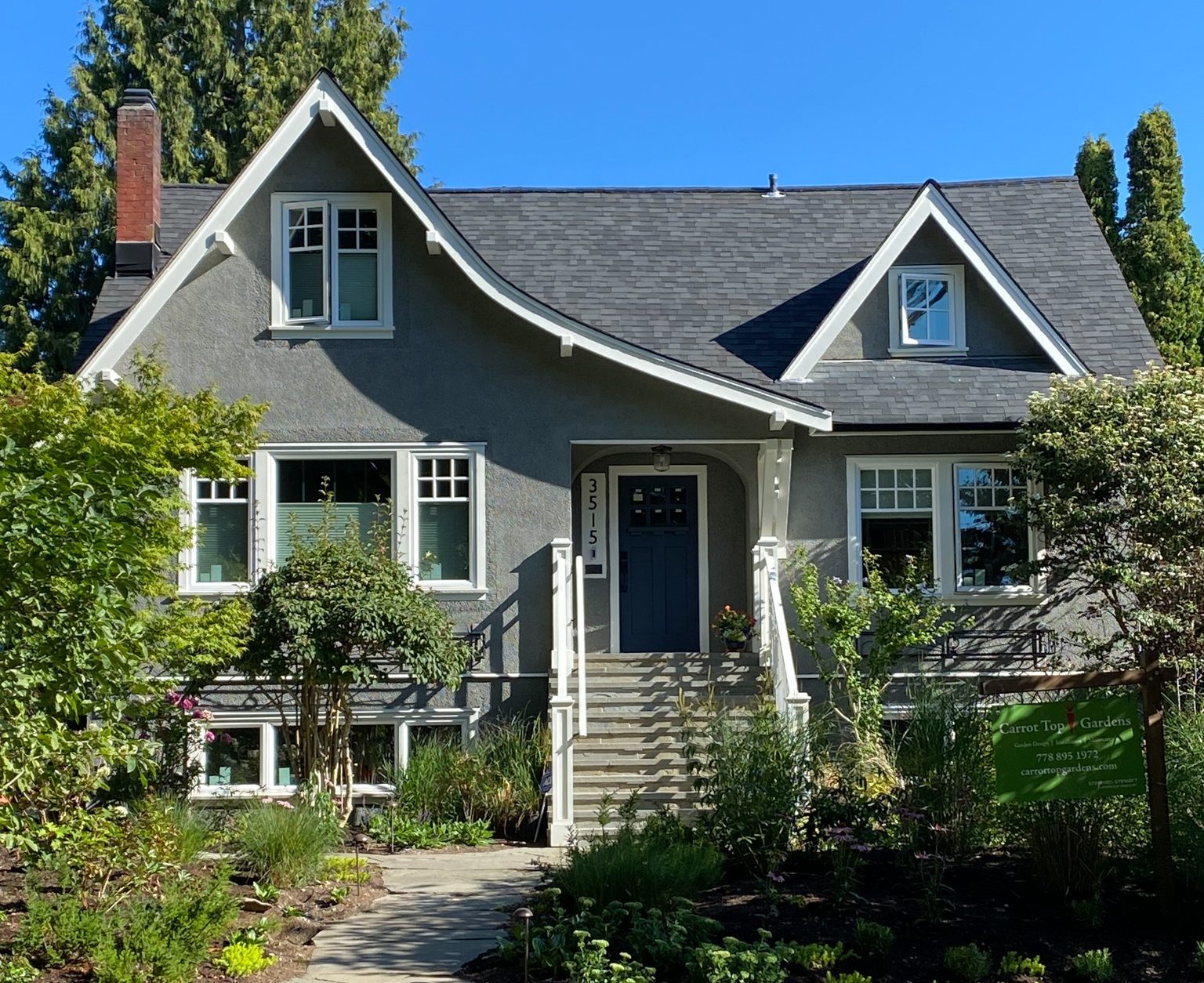 A Craftsman renovated by Caisley Developments
A history of incredible craftsmanship
The reel of incredible projects Luke and his team have completed is too big to include here, so we thought we'd pick out two highlights. For more inspiration, you can check out their website or Instagram page. 
Starting with the residential sector, a standout home that encapsulates so many of the benefits and opportunities you have in character and heritage home restoration is Caisley's West 47th project. Just look at this beauty!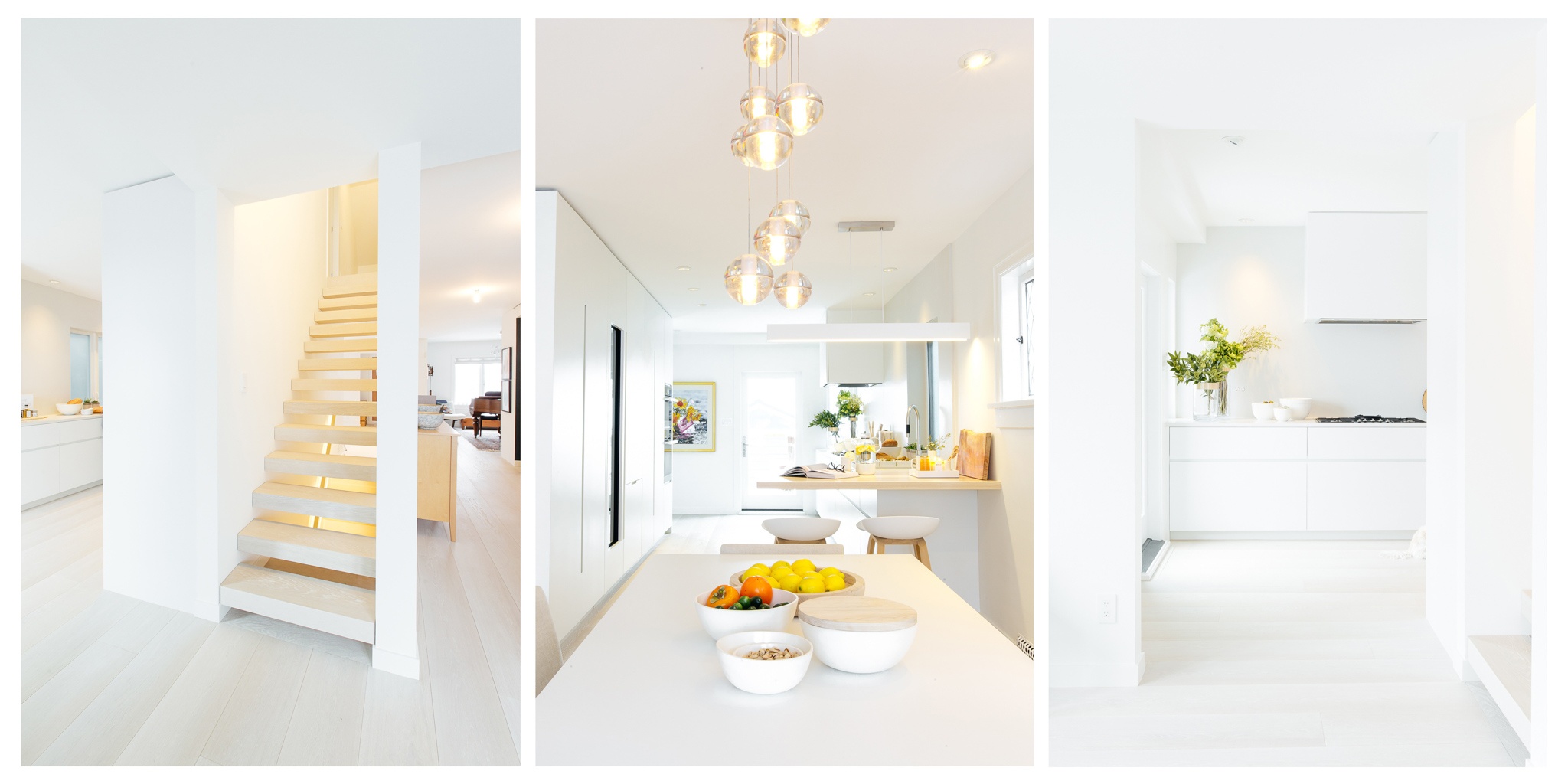 A beautifully updated character home on West 47th. 
The client, a passionate art collector, worked with Caisley and interior designer Gaile Guevara to perfectly execute her vision of having a modern, spacious interior that would allow her art to stand out. Luke and his team knew a foundational way to do this was to introduce more natural light into the home. This was done by removing beams, door headers and archways, and adding the beautiful floating staircase. Achieving the floating look required Luke to first build structural supports using steel bars, then add custom finished oak casings around them.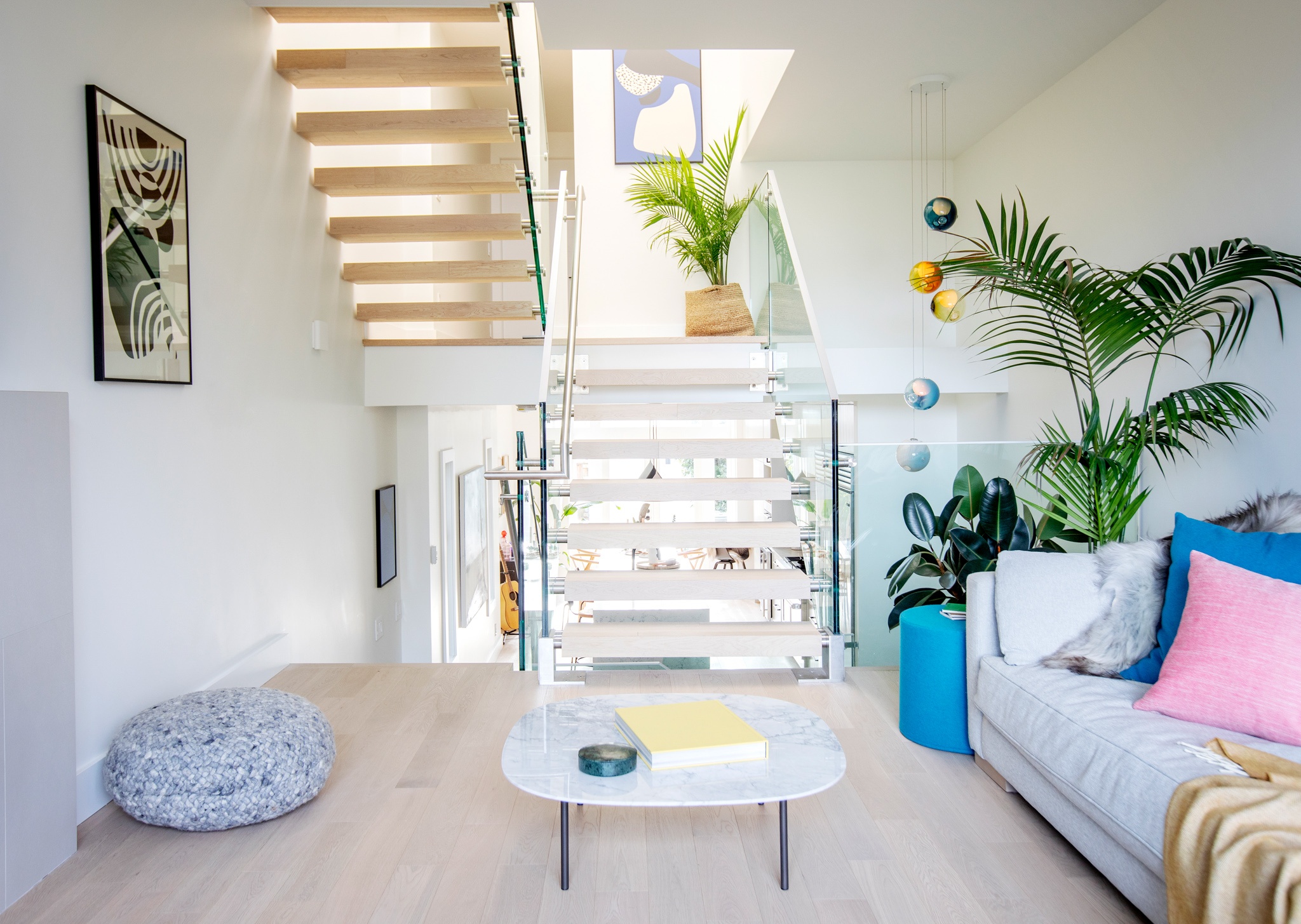 Another open stairway on West 1st in Caisley's portfolio
Luke suggests there is a lot of potential in redefining a home's stairway and that he is seeing these aspects becoming more of a trend in renovations and restorations, not only for the design aesthetic but because a floating stairway can really open up a property and let natural light travel much further.  I think I know what I'm doing in my next reno! 
The beautifully updated interior at West 47th carried out by Luke and his team blends perfectly with its exterior character aesthetic – though they weren't responsible for the snow! 
Caisley Developments have also created a beautiful home from a historic commercial space. 
A commercial project with a residential feel
This isn't the first time we've seen the wonderful work Luke and his team can do – a little while back Luke spearheaded the overhaul of Vancouver's best Real Estate office. Now home to Stilhavn Real Estate Services, the commercial space at 36 East 5th Avenue had an interesting history, used as an auto panel shop and hardware store since it was originally constructed in the early 1900s.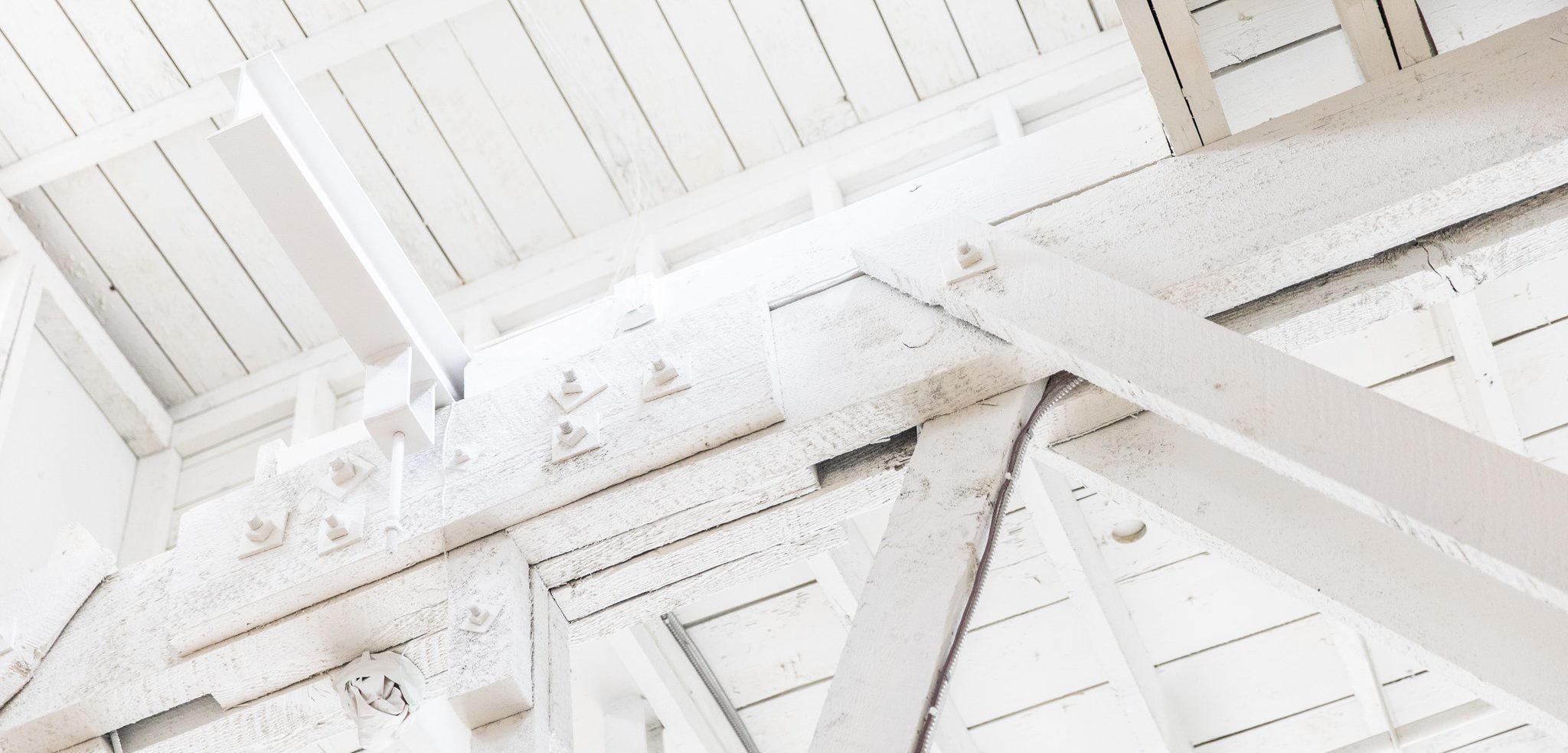 Improving the safety of original features before highlighting them as a core component of any building is what these guys excel at.
Luke and his team paid homage to the industrial feel of old while integrating a modern, fresh feel and plenty of natural light. It really is a pleasure to work out of this building, Luke!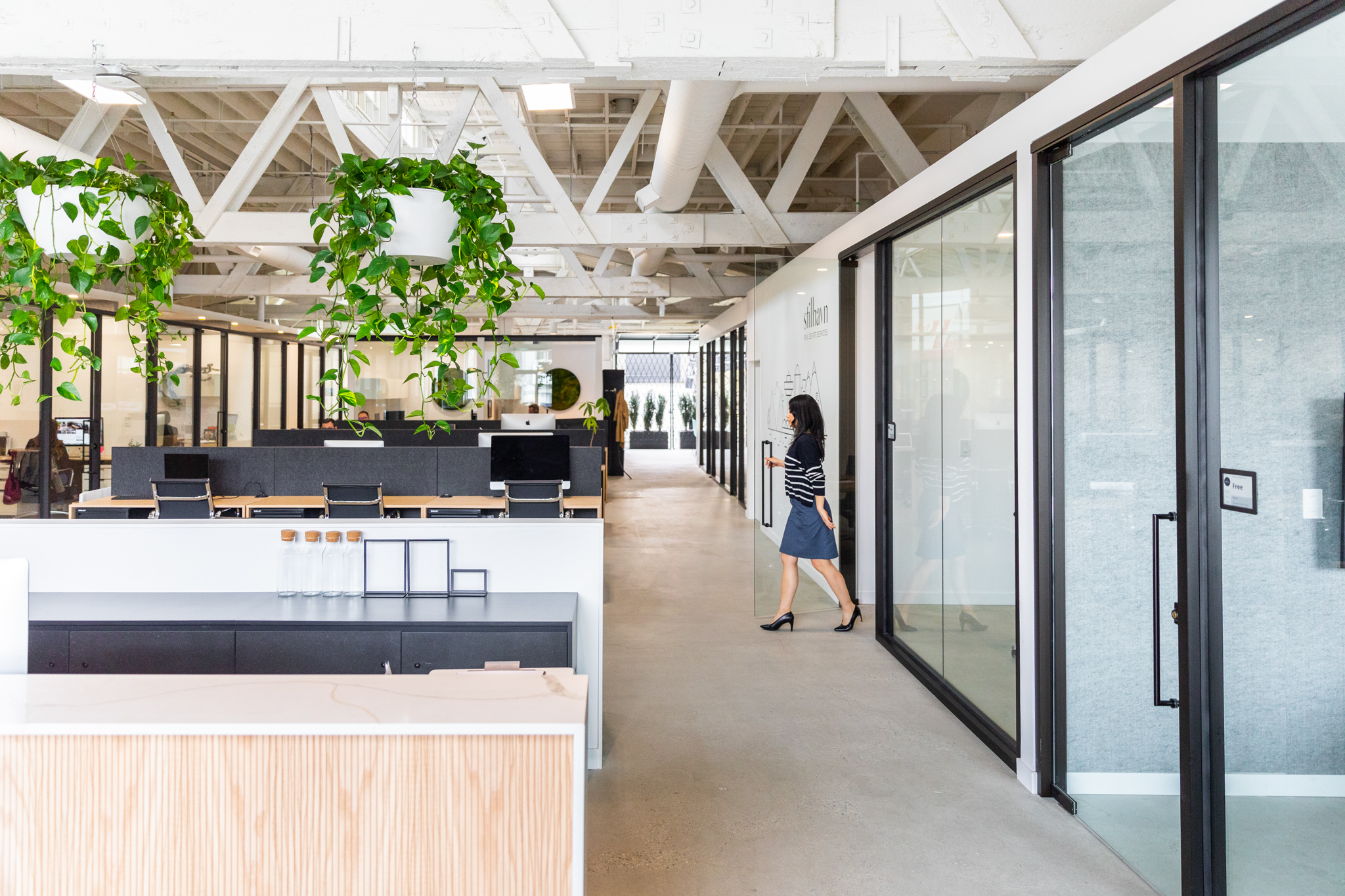 The offices at Stilhavn Real Estate Services.
Vancouver clusters of housing styles are better represented in certain areas, so even though Caisley Developments cover the whole of Vancouver and beyond, they've generally found themselves operating in Vancouver Westside. "Point Grey, Southlands, and Kitsilano – we tend to find ourselves here a lot. There are a lot of beautiful homes here and many ambitious projects."
So, restoring character homes, is this something that you can see a lot more people being interested in?
There are compelling reasons why you should consider taking on an ambitious project like this. Buying and renovating character and heritage homes have so much appeal and Luke tells us that, in general, he tends to find that homes built during these periods can in fact still be of a higher quality than those quickly erected in the 90s. If you think about the real core of a house – the frame – the timber used back then is still rock solid today. These days, Luke says we are growing lower density, fast-growth woods which tend to be weaker. I don't know about you, but a stronger frame sounds quite a bit better to me! 
Naturally, we here in Vancouver are drawn to new approaches and modern design, but there is beauty in balance. This means that beautiful heritage and character homes will become more of a rarity and for some, we hope, this will only help increase their desirability. 
Luke cites that lesser-known desirability is a large footprint that these homes have, this can be a fundamental benefit for families that are looking for more space and investors looking to turn them into multiple dwellings. So as the footprint of new build homes continues to shrink and character homes become increasingly rare, you can see how these properties will become more attractive investments. 
Have you ever found anything really surprising? 
With a history of renovating some of Vancouver's most beautiful (and old) homes, we thought to ask Luke whether he'd come across anything surprising. To be honest, we were thinking of skeletons and hidden treasures, but even though there wasn't anything quite as unusual Luke's insight was truly entertaining. 
"Now, the last thing I want to do is freak anybody out. So unfortunately I must announce we haven't found a skeleton just yet, but as a professional, some of the things I have found have been scarier than that. We've pulled houses apart to find studs completely different sizes and that have had smaller pieces of wood added on top to make them taller. We've discovered a lot of shortcuts in dangerous places and I'm pleased to have been able to rectify them."
Studs are boards that function as framing elements in a home to support the walls, so yeah, they're a pretty big deal.
"One of our more difficult tasks was to remove two cast iron bathtubs from a house – we had to take the walls down to get them out of there!"
Luke's best advice to avoid these hidden surprises is to refer to the experts and get the place inspected, though, in a way, some surprises can be entertaining, no? Ok. Luke also mentioned that shingles can be one of the more common sub-standard elements that people run into. 
For those of you out there who can't actually picture what a shingle looks like, we asked Luke to clarify. 
"Really there's not really any complications with shingles." Thanks for clarifying that, Luke….
"Just think of it as an exterior siding, any of these beautiful Craftsman houses you see have wood panels on the side and pieces interlaced together on the roof. Traditionally they're pieces of cedar and they're used to protect the house against the weather." 
"But I understand your point – they can be tricky to manage, both when assessing their integrity and when coming to replace them. We see a lot of failure in them when they're not done correctly. These days we have much better practices on how to keep them dry and resistant to failure by using cavity battens and rainscreens, so when replaced, they typically last a lot longer than the first time around." 
Are there skill and material shortages for these projects?
We were intrigued to learn whether restoration of character and heritage homes has become harder due to the progression in modern building techniques and whether this progression has caused a decreasing skill set in the workforce and a lack of period-appropriate materials. 
"Most of the time, the materials can be found. The bigger challenge is that skilled trades workers who can execute those projects are starting to dwindle. For example, as beautiful as they are, there are not too many people specialising in stained glass windows anymore."
"There's a certain skill that comes in with the true stained windows; it's precise, there's no hiding roughness or imperfection – you have to be good at what you do."
"So yeah, that's few and far between these days, to be honest."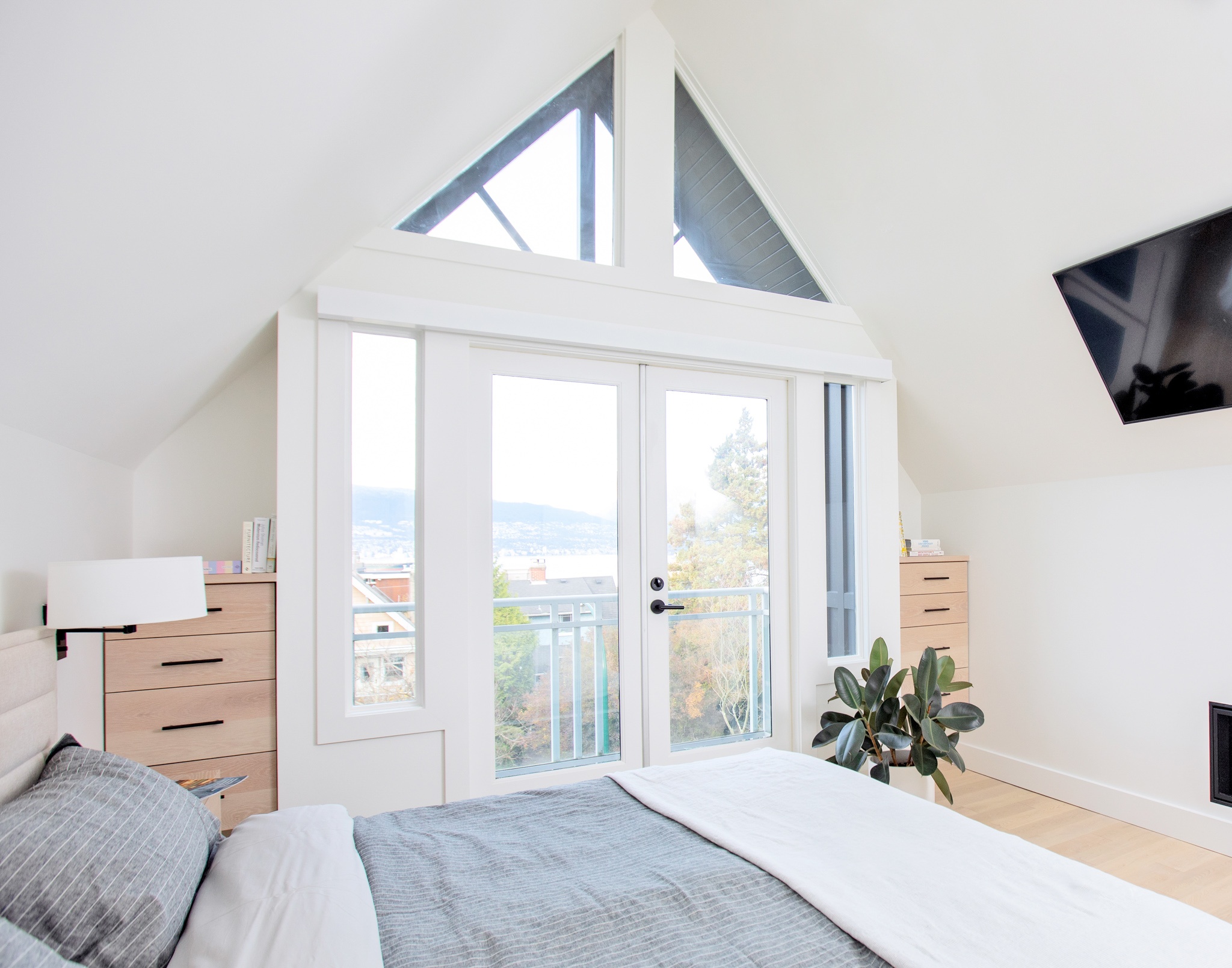 Caisley's talent, however, is in abundant supply.
I asked Luke what he would recommend to someone who has that kind of problem.
"Contact us! Jokes aside, we have a few world-class people that can take on highly skilled bits of work like stained glass windows. Being in this business so long we've built some great relationships and partnerships, so we're more than happy to point people in the right direction too. I've found over the last few years that we've really got a good reach, we don't find it difficult sourcing the materials or the skilled trades that we need. Certainly, one we would recommend is IGK Finishing, not only do they have exceptional craftsmanship, but they're also so knowledgeable on different architectural and interior design styles. For bespoke finishings like wooden panelling, coffered ceilings, and beautiful grand staircases – look no further than IGK."
Despite Luke's vast knowledge and highly skilled contacts, he did express a concern that the future will only see less of these skills exist. Partly this is a natural phenomenon as we progress, but it is a shame to see the beautiful craftsmanship of old become a rarity. 
"There really are a select few companies that do this kind of work, the demand is diminishing and thus so is the need for supply. We see so many craftsmen really keen to learn these skills, but without the need and in the face of legal and financial barriers to get these projects going they will only diminish. 
"Hopefully it doesn't die out because we need to retain buildings of character and heritage. I'd say if it does, the city may well adjust or loosen their rules to suit and allow other restoration options." 
Luke and I went on to discuss some of the other key challenges and difficulties people face when they look at doing character home renovation projects. In Vancouver, a specific set of legal and financial requirements are often the first hurdle that many have to get past.  
On finance and legal matters
With higher premiums due to the use and condition of a home, character and heritage homes by their nature can be more expensive to insure. With building materials advancing over time, many of those required to maintain a heritage designation come at a premium. Thus, the insurance does too. For Luke, this is one of the key pitfalls that ends up bleeding into project finances, having the correct insurance is critical. Start by consulting professionals well before you plan to get moving on a project or purchase. 
As far as the legal requirements, Luke's best advice is to get started early and contact the right people. "It's a really good idea to contact the city and get that ball rolling early. You'd want to have a good idea of your plans so that you don't get stuck into renovations only to be told they aren't deemed compliant. It can be a complicated process, if you're looking to purchase, make that contact early and find out just what you can and can't do with a home of a particular age and style," Luke noted. 
To this end, Luke mentioned the best way to support these assessments is to get a knowledgeable building inspector in first – the benefits far outweigh the costs. Nasty surprises aren't just bad for your budget, they're bad for your contractors or builders too. The things they would be looking for will include cracks or fragility in the foundations, whether any renovations have already been done (which is hard to spot using an untrained eye, especially if they haven't been done without the city knowing), and the presence of knob-and-tube-wiring which can be a particular hazard. 
To Luke, these assessments add so much value. "If you're looking to buy, sell, or renovate something you've owned for a long time, you can walk into it fully prepared and have a better understanding of what your costs are before you start." 
In this world, preparation is key. Overall, Luke described that if you're choosing to renovate and rebuild something with age, you tend to have much more freedom with a character home over a designated heritage home due to these financial and legislative requirements. 
Thank you, Luke and Caisley Developments
We want to say a massive thank you to Luke for taking time out of his busy schedule to help us shed light on the skill, benefits and challenges involved in character and heritage home restorations. We look forward to seeing more of your projects!
We love chatting with anybody involved in this space so reach out if you have a story to share!